A very new website for bettors since the Midnite betting site had been launched at the end of 2019. People might say it is not safe to bet on such a new betting site since no one knows whether it is reliable. But the one thing that attracts a lot of attention to Midnite betting service is that it offers a lot of eSports options. While older sites are focused mostly on traditional sports, this new Midnite service is focused on trending eSports. So check out whether it is worthy of your attention.
4.4 /5 Overall Rating
4.2 Esports Offered
4.2 Customer Service
4.5 Deposit Options
4.5 Player Value
About
It's a new betting website where the main focus is on eSports. You will find only a Midnite eSports section since it doesn't target at traditional sports. It is a platform for gamers who are playing themselves and who love watching how other players play, and they bet on them. The website offers good odds, they are refreshed regularly. Even though it is new, it is gaining popularity pretty fast since there are not that many sportsbooks.

How Does Midnite Work?
To start betting Midnite set, create an account. The procedure is simple, and it requires revealing some information, such as your email, country, referral code. Then the standard procedure of attaching a favorite payment method so that you can make a deposit and then cash out your reward or win. For the first deposit, you can get up to 20 dollars – 100% value. If you add 5 dollars to your account, then you get a 5 dollar reward, etc.
Then betting on Midnite. You can read the rules in the "Betting Rules" section in the right corner at the very end of a Home page. There you will find information about betting on different kinds of games and matches in the Midnite eSports section.
If you are an underaged individual, then you are not allowed to create an account on the website. It is a strict rule, and licensed eSports companies can't allow underage citizens to keep gambling on their sites, so Midnite might block your account if you are younger than 18 years old.
Welcome Bonus
As a welcome bonus, you can get your first deposit doubled. Midnite welcome bonus can go up to 20 dollars, if you compare it with some other similar sports platforms, they sometimes offer even better bonuses. But on the other hand, the platform is focused more on the betting process rather than on promotions.

Location & Age Restrictions
It seems that the company that runs Midnite is located in the United Kingdom. They have a license from the UK commission to operate the esports betting platform. The age restrictions are standard, if you are underage, no betting for you.
eSports To Bet On
The developers of this eSports site claim that there are not that many websites dedicated to games and betting on games. Midnite developers have noticed that a lot of bettors sometimes even risk making a bet while using the services of an unreliable bookmaker. So the Midnite developers have decided to keep up with the trend of betting on games matches. That's why they have created Midnite so that bettors on eSports would have a legal platform where they can bet on eSports.
If you click on the "Betting" button on the eSports website, you will see that it offers at least a dozen betting options, and all of them are games. You can choose the mainstream games like Dota 2, Counter-Strike, League of Legends, or you can pick less recognizable games. There are options for all the people who love betting on games.

Types of Bets
Midnite offers six types of bets:
Match-winner.
Map winner.
Handicap bets.
Totals bets.
Race to bets.
Multiple bets.
If you are not sure what these types of bets mean, you can click on the "Help" section at the very end of a Home page. Then choose the "Getting Started" section and pick the types of bets articles. The article helps a lot for beginners. The explanations are simple and understandable.
Registration
The registration process will take a maximum of 2 minutes. You might need to verify your age since the legislation is strict in all the countries that allow gambling – if you are younger than 18 years old, then you can't gamble. And the company might be punished for offering services to underage. So be prepared for age checks.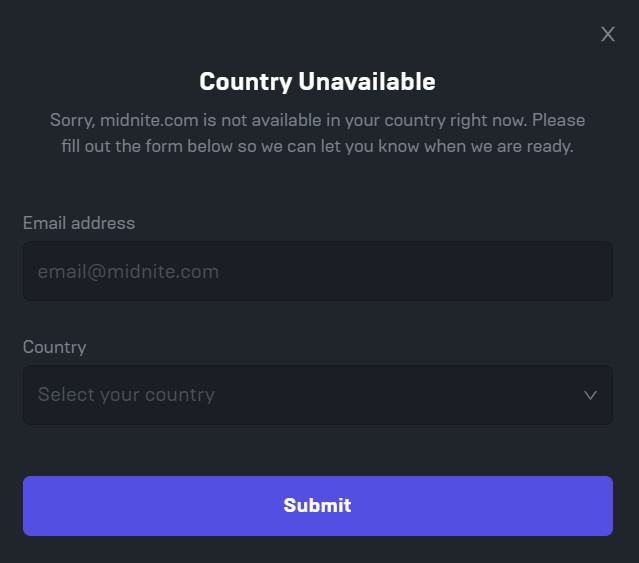 Promotions and Bonuses
There is a "Promo" section where you can learn about the promotional programs on Midnite. Midnite bonuses are not very impressive, but that's due to the platform being focused more on creating as many betting offers as possible. You will find a large number of matches and leagues, as well as player vs. player options to bet on.
Special Features
The Midnite reviews claim there are not so many special features. The only special feature they offer is a bonus for a friend. Instead of offering real money, they offer a free 10 dollar bet if your friend will make the first deposit of 10 dollars. The bonuses seem to be less impressive, but that is due to the fact that the site is new in the industry, and it is focused only on the games. You won't find traditional sports on the Midnite eSports site.
But if you click on the "Help" button, you can find the Academy section with articles explaining the betting basics. So you can say that this is a special feature targeted on the new customers.
Deposit and Withdrawal Options
The withdrawal and depositing methods are the same. You can simply attach your credit card, PayPal, Neteller or Skrill eWallet to make a deposit and then to withdraw your winnings. It seems that Midnite is not charging bettors for making deposits or cashing out. You can read more about Midnite rules.
Privacy and Security
Midnite has a license, and betting on a licensed betting sportsbook is considered to be safe. As the owners of the platform claim, they wanted to create a website where bettors on esports could bet safely. The site is legal even though it is a new player in the betting industry.

Customer Support
It is standard, you can click on the "Contact us" button to be redirected to the section with contacts. There is a possibility to contact the support through the Discord channel (a well-known app used by gamers all over the world), Twitter, or email. Or just click on the chat icon (right bottom corner).
Pros / Cons
Pros
Dedicated to eSports.
Good Midnite odds.
Quick Midnite registration process.
Live betting.
It has a UK license (license commission).
Cons
It is new and less popular.
Could be less safe than other platforms.
Final Verdict
The website is new, it is still in the process of being developed, but it is one of those rare websites with a focus on eSports and with a license. So it is worthy of attention. Most platforms offer traditional sports and two or three games to bet on. Some other bookmakers are targeted at games and bettors who are willing to bet on games, but they are still offering a lot of traditional sports options.
The developers of midnite are 100% focused on the games, and potential players who understand how the industry works, and they want to win money with the help of their skills. The site has a nice design, and it is easy to use it.
FAQ
Is Midnite Legal?
Yes, Midnite has a license from the UK commission. So even though it is a new website and most people claim that time should pass and then they will see whether it is a good site, the license from a reputable source is a good start. It operates in many countries and offers unique options for eSports bettors.
Is Midnite Good?
It seems that Midnite is a good site. Midnite site had been launched a while ago, but you can check the Midnite reviews, and you won't find a lot of negative comments. It offers a nice design where everything is categorized, and you can find everything you need. You can claim a nice Midnite bonus for the first deposit, or you can receive a bonus after inviting a friend.
Is Midnite Safe?
Like any other betting platform, it can be only partially safe or better say protected. It has licensed software, the company that is running Midnite has a license to offer gambling services. Midnite is cooperating with some reputable companies. So it must be protected but to some extent. Always try to spend only the sum of money you can afford to bet.
Do You Have To Download Midnite App?
No. There is no necessity to download the app since Midnite can be used from any convenience for your device. If you prefer using your smartphone, then you can use it from the browser.